World Wide Clout, bitches, WORLD WIDE CLOUT!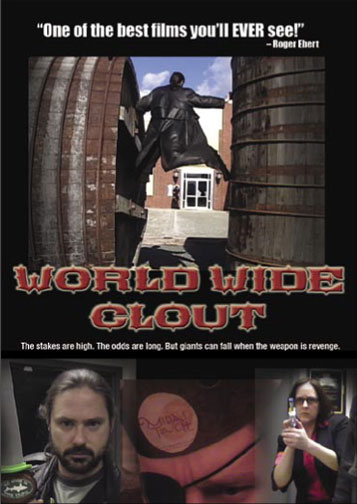 Here it is, the official cover to the movie, and the official announcement – we came in 3rd Place in the 2009 Dogfish Head Off-Centered Film Fest! For real.
This is what Dogfish Head has to say so far:
2009 Off-Centered Film Fest Winners Announced

Thu, 03/19/2009 – 1:10pm

Another year of the Off-Centered Film Fest meant another great night of watching short films, drinking Dogfish beer and making tough decisions. The competition was fierce and the arm-wrestling was fun, but in the end we had three short films that we look forward to showing you in Austin, TX for the April 3 & 4, 2009 Off-Centered Film Festival.

Without further ado, here are the winners:

First Place:
Christopher Rose Dogfish Head Commercial
Director, Christopher Rose
Austin, TX

Second Place:
Psychedelic Dogfish Head Beer Commercial
Director, Dax Norman
Sunnydale, CA

Third Place
World Wide Clout
Director: Erik Mitchell
Philadelphia, PA

These three films, with a selection of the additional entries will be screening at the Off-Centered Film Festival on April 3 & 4, 2009 at the Alamo Drafthouse, Lake Creek in Austin Texas. Event information, ticket pricing and information about the event are available through at the Off-Centered Film Fest website.
Thank you to everyone involved in the film submitted to the 2009 Off-Centered Film competition, we had a great time watching all the entries!
Stay tuned to www.dogfish.com to watch the winners (we'll get them up after the premiere in Austin!) and for information about the 2010 Off-Centered Film Fest!
We'll also post a list of additional films to be screened at the fest once we get it.
And, if you're just coming up to speed, this is what I've had to say so far: here, here, and over here.
I really don't know too much information yet. I do know the Fest is the first weekend in April, April 3rd and 4th (two weeks from now!), in Austin, TX. And, I know my ass is gonna be down there one way or another! More later.