So I am a little behind, but it doesn't really matter, because I wasn't keeping a schedule!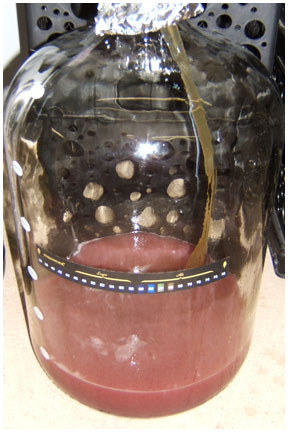 So I fruited the Wheat Beer last Wednesday. It went well enough I suppose. You can see above the awesome color purple it was for the first two gallons or so, now it just looks like a muddy beer – yum! I used all four of the Naked Juices mentioned below, it maybe a little over kill, but whatever. The funny thing is I hadn't tried the juices before I bought them I was just going from the raw ingredients and my past knowledge of them. Well of course I had to taste each in a sample cup before I added it to the fermenter and yum-my. Both the juices were banging, but in all honesty if I would have tasted them first, it would have been four bottles of the pomegranate blueberry juice, hands down. Over the past week there has been a mild secondary fermentation, but nothing physically violent. I'm tempted to move the fruited version of the wheat to a third fermenter, more to help remove it from the fruit pulp before transferring to keg than anything else. Tentatively the two wheat beers are being called Frootid "the Wheat" and Naked (the plain wheat, you know the one without the Naked Juices, get it? McCloud? 😈 )
Also, since I was out of secondary fermenters at the time of the wheat transfer, I had to transfer two beers into kegs.
 
So the Fool's Gold and the Amber Ale got transfered into my last two kegs. Wait a minute, he doesn't even have my kegerator yet and he's out of kegs? And he's already thinking of buying more kegs? Yup. Yeah, even with interruptions, I was able to clean and sanitize two kegs and transfer two beers and soak two carboys in less than two hours. I would have never have been able to even bottle one batch of beer in two hours. OK, maybe if the bottles were already ready, but that's it. So right now I have four kegs of homebrew downstairs ready to go, three carboys awaiting kegs, and enough ingredients lined up for two more batches. I need to start drinking!