Tuesday, March 31st, 2009
I've been way behind again for brewing, making more excuses than I should, but at least I have my first batch of root beer to share!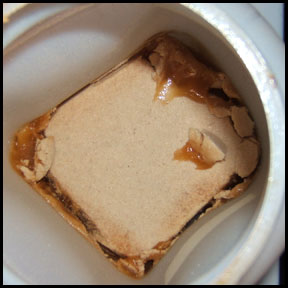 So, I've been slacking hard on brewing, and being a guy with three taps in his living room it always feels a little "boring" to not have something pouring from all three. I knew my most recent batch, the Brown Simcoe, was going to be at least two more weeks so I wanted to do something. That's when I remembered I had an old root beer kit down in the basement.
After being inspired by Garrett brewing his Big Daddy's Root Beer with his kids and how good it turned out I figured this could be an easy solution to have three beverages available. I went to grab the kit, let's see here, yeast expired in 2002, no problem I won't be using that, and what's this, the honey is solid (!), hum, we'll have to make that work. I did some brief poking around on line and came across information that essentially said honey (as itself) can not go bad. So basically I tried to heat the honey from the outside to see if I could get it gooey again – not so much, around the outside a little bit (see picture above).
So basically I followed the recipe I had: 2 gallons 160+ degrees water, 3 gallons of cold water, 2 oz of Gnome Root Beer Extract, 3 pounds of honey, 2 pounds of cane sugar, and 1 tsp of vanilla extract. I boiled 1 gallon of water and used our hottest tap water (maybe 140ish) for the second gallon, then slowly dissolved the hard honey into the hot water. After the honey dissolved, it took some "chopping" to break it up, I added the rest and kegged the root beer. Originally I was just going to mix everything in the keg, but with the way the honey was I wanted to make sure it was all dissolved.
I now have a designated keg for root beer so hopefully I do this a few times a year. Basically (I am told) that the root beer flavor is so strong it essentially leeches into the rubber gaskets of the keg and is quite difficult to completely get rid of. I did taste the extract straight (2 oz of extract to 5 gallons of water, it is strong!) and boy was it bitter, it really didn't even taste like root beer though it definitely smelled of it. I wasn't ready to designate a tower line to root beer so I essentially have a picnic tap inside the kegerator for the root beer, I think this is a good alternative.
So, I've got 5 gallons of homemade root beer on tap, anyone who has kids who likes root beer this would be a great time to visit – how exciting would it be to "finally" (for some) get to try one of my "beers".