Thursday, October 14th, 2004
HOW COOL IS THIS!!!
I recieved my copy of "Brew Your Own" magazine yesterday, start flipping through, and almost dropped the thing when I got to page 9. Basically the short story is this, a few months ago "BYO" had a label contest (see update archive – April 6, 2004 – "BYO" 9th Annual Label Contest) and I entered a few beer labels. One label which caught there attention was the Moore's Light label. The main reason they liked it was because of the story I included about brewing beer for my dad. Unfortunetly I did not place in the label contest, BUT I did get my Brewer Profile written up in the magazine. I'd say I came out on top.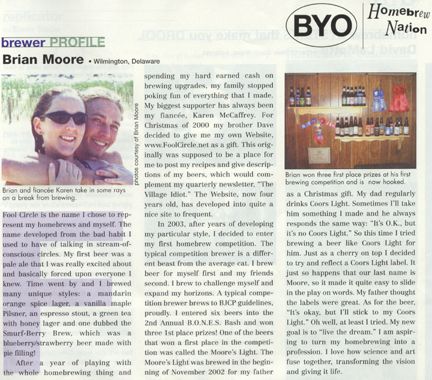 Here's the "fool" brewer's profile I submitted, if you'd like to squint you can read the true store from the magazine clip above. Or really be supportive and go out and buy the magazine for like five bucks or whatever.
"I can blame the whole mess on my sister, Nancy. For my birthday in November of 1999 she decided to buy me my first "starter homebrew kit." It was a simple two gallon plastic fermenter with a spigot on the front (a Mr. Beer® model.) Not much to look at, definitely something to shake my head over now, but at the time I held the key to the world in my hands.
From that moment on, my homebrewing empire began to develop. I'm a thinker, so right away I created a name for my brews, a developing label design including a logo to represent myself, and many a pipe-dream filled night talking about "one day when I made it." Fool Circle is the name I chose to represent my homebrews and myself, basically it is a play on words that developed from the bad habit I used to have of talking in stream-of-conscious circles. My first beer was a pale ale that I was really excited about and basically forced upon everyone I knew. It was a terribly cidery over carbonated attempt at a beer, but it was just good enough to keep me trying to make it better.
Time went by and so did many different unique styles: a mandarin orange spice lager, a vanilla maple pilsner, an espresso stout, a green tea with honey lager, and one dubbed the Smurf-Berry Brew which was a blueberry/strawberry beer made with pie filling! After a year had gone by and I was still "playing" with the whole homebrewing thing and spending my hard earned cash on brewing upgrades, my family began to take me a little bit more seriously and stopped poking fun of everything that I made. My biggest supporter has always been my fiancée, Karen McCaffrey. For Christmas of 2000 my brother, Dave, decided to give me my own website www.FoolCircle.net as a gift. This originally was supposed to be a place for me to post my recipes and give descriptions of my beers, which would complement the newsletter I sent out quarterly The Village Idiot. The website now going on its fourth year later, and probably as many different variations, has developed into quite a nice site to frequent.
In 2003, after years of developing my particular style, I decided to enter my first homebrew competition. I did not realize this at the time, but the typical competition brewer is a different beast then the average cat. I brew the beer I like for myself first and my friends second. I brew to challenge myself and expand my horizons. A typical competition brewer brews to BJCP guidelines, proudly. I entered six beers into the 2nd Annual B.O.N.E.S. Bash and won three 1st Places! Basically, when I showed up at the awards ceremony I was late by about two hours, but I did happen to find one of the guys who was in charge of the competition. He asked me for my name and responded that he remembered my name for some reason. I then told him it was my first competition and that I was very excited. He responded by saying that 'this is your first competition? You should definitely enter more.' And with that he explained that I had won three 1st Places, which completely blew me away.
One of the beers that I had entered and won a first place in the competition was called the Moore's Light. The Moore's Light was brewed in the beginning of November of 2002 for my father as a Christmas gift. The only beer my dad drinks on a regular basis is Coors Light®. Sometimes when I brew I'll take him up something I made and he always responds the same, "it's O.K., but it's no Coors Light®." So this time I was trying to surprise him and tried brewing a beer something like a Coors Light® for him. Just as a cherry on top I decided to try and reflect a Coors Light® label, but twist it and make it my own, Fool Circle style. It just so happens that our last name is Moore, so it made it quite easy to slide in the play on words. Fortunately, my father thought the labels were great and the beer was, "O.K., but I'll stick to my Coors Light®." Oh well, at least I tried…
In 2003 I also had my very first annual Fool Circle beer tasting. Basically I had put aside and cellared one beer from each batch over the past year, and on that particular date a few select friends, the Inner Circle, and myself blindly sampled each brew and tried to identify which beer was which. Out of the nineteen beers present that day only three were guessed correctly by any one person.
Other happenings over the last year are: the acquisition of Best of Show at the 21st Annual H.O.P.S. B.O.P.S. competition with a California Common, one other 1st Place, three other 2nd Places and a Bronze Certificate from the 2004 AHA Competition. Also, the 2nd Annual Fool Circle Beer Tasting has just happened along with talk of a Fool Circle Beer-Pong Tournament.
My new goal is to "live the dream." I am aspiring to continue my homebrew experiences into a professional trade. I love how science and art fuse together to become one in this application, transforming the vision and giving it life and diversity. I feel as if the borders to the brewing world are non-existent, just look at Sam Calagione at Dogfish Head with his extension with Randall the Enamel Animal or John Maier at Rogue Brewery with his cooperation with Chef Masaharu Morimoto from Iron Chef. One day I feel as if this pup is going to be running with the big dogs."