Thursday, November 29th, 2007
So I got the score sheets from Split Rock back yesterday. You should already know how I faired, now you can read a sampling of what some others thought.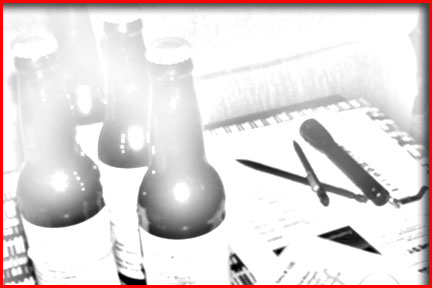 '05 MacRae – 18/23/21 -Â  "This beer should be entered as a Smoke Beer (22B)." – "Smokey phenols should come from traditional Scottish yeast not from peat-smoked malt." – "Malt dominates, is overdone to the point of a bacon flavor."
Gnarleywine – 27/29 – "A hop character in the aroma would really add to this beer." – "A good effort, but malt is one-dimensional, caramel."
Hazelnut Brown – 32/34/34 – Third Place Specialty Ale – "Overall a good beer, aromas & flavor were pronounced, nutty with malty sweetness." – "Quite good and really interesting!" – "Overall I feel it is a good beer, maybe decrease nut flavor a little."
American Brown Ale – 25/27/28/25 – Second Place American Ale – "Good overall, body too light." – "This was a good brown ale, add more body and it will improve." – "Pleasant." – "Not bad, just needs a little tweaking."
OK, that was their reviews of my beers, now here's my reviews of their reviews (got it?). Anyway, I mostly agree with the MacRae reviews, the beer is too peat-smoky, but that's only because I'm an idiot! No, just kidding. Actually I think I have tried to enter this beer as a smoked beer and they said it's not smoky enough and as a wee heavy (the base style) and they said it is too smoky, it's a bastard. Also, I mostly agree with the Gnarleywine reviews. It's a good American style Barleywine, but it is a little one-dimensional and could use a hop punch in the end, but I still think it is sticky delicious. Again, I mostly agree with the Hazelnut reviews (do you sense a pattern here?). I think it is good, sweet, and nutty, and yes maybe too nutty. I will make this one again but with less hazelnut extract, it was definitely a favorite with the ladies!
BUT, this is where I'll have to disagree with the reviews of the ABA, even though it placed second (with the scores that I got and receiving a second, the other beers must have sucked). First I have to state that there were three apprentices and one certified judge. An apprentice has not taken (or at least not passed) the BJCP exam, cool no problem everyone has to start somewhere, but who the hell thought it was a good idea to put three apprentices with one other certified judge? These sheets were pretty wacked, it's almost as if all four talked about the beer first then wrote down what they remembered the certified judge saying. Seriously, one score sheet had only 14 words on it, 14!? I've written more than 14 words during the bottle inspection before a beer was even opened. Seriously, this is all he wrote, "Nice roasted aroma, chocolaty. Good color & head. Good finish. Good body, mild carbonation. Pleasant." I mean jeez if you take out the word 'good' he only said 11 words, and if you take out all the synonyms for 'good' your only left with 9. Here is this judges very descriptive review of my beer that I paid five dollars for with all the words that mean 'good' taken away, "roasted aroma, chocolaty, color & head, finish, body, mild carbonation". Besides the first three words it sounds like those are categories to review not the review itself. Disgusted. Regarless, the results are in.