Wednesday, September 15th, 2010
This past weekend, 09.10/11.10, was the 6th Annual Dogfish Head Intergalactic Bocce Tournament in Milton, DE and it was once again absolutely ri-dic-u-lous!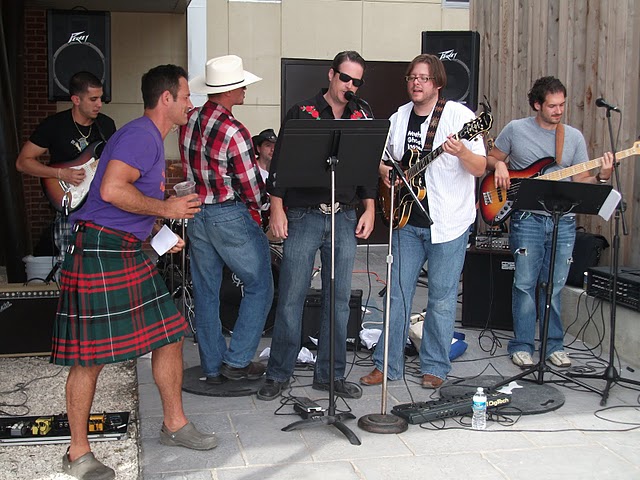 Click HERE to check out all the photos from this event
Click HERE to check out the ridiculous setlist from this event
This was my fifth year attending the Bocce Tournament and the Erik Mitchell Band's (EMB) fourth year attending. In my opinion, the EMB is the unofficial 17th team of the tournament, I feel as if they are embraced overall by the majority of teams, it's a real personal and interesting relationship between the musicians and the teams. This year was a little different from the bands perspective, a few things that were different including heading to Milton during the first day of the tournament. Typically we would be behind schedule leaving and not make it down in time, so this year there was more of a conscious effort to get there early, so we were probably able to enjoy the festivities from about 7 to 9 on Friday. Additionally, there was a new musician playing with the band, Jimmy, a second guitar player who sort of took the lead guitar role on some songs and sort of took a background role on others, in all he was a fun addition. And finally, which kind of came down on me, there was no BandVanMan to tote the equipment around in, so unfortunately we got stuck using four cars instead, I think it still worked out OK but felt a little more cumbersome and I'm sure cost a few more bucks between gas and tolls.
Per usual the event itself was crazy stoopid dumb, it had all the dope moves Chucky! Honestly, I feel every year the event takes place it generally gets a little bit more nutty and a little bit more put together, things just really felt like they flowed this year from the interaction of the teams, the schedule of events, the catering, the timing of the games, and the flow of the band. Actually, this may be the first time I can remember things kind of ending on time. Oh yeah, did I forget to mention the Discovery Channel was there filming the whole thing? Yup, take the insanity up another notch. If you haven't heard yet, Sam Calagione the president of Dogfish Head will be hosting a new Discovery Channel show called "Brewed" which will cover different aspects of the modern beer culture and the history of beer, partially with Dr. Pat McGovern and Sam hopping around the globe to explore different ales, sounds pretty awesome to me. Well, one of the events they covered was the Bocce Tournament; two days of the most loyal Off-Centered People drinking the best Off-Centered Ales playing mainly Off-Centered Bocce while rockin the most excellent Off-Centered threads around. Or, you could say a bunch of really cool goof-balls drinking a metric ass-ton of beer while pretending to play die-hard bocce in the most ridiculous costumes around.
From what I could tell all of the teams returned again, which is really great. Let's see how good my memory is … not very, but we'll try … there was Punkin Drublic rockin out a "cowboy label" theme, so like the figures from the Burton Baton and Black and Blue labels and Johnny Cask. They actually re-wrote the lyrics to "Ring of Fire" and performed it with the band, pretty cool. The Alpha Males, or Micro Brewsters, or whatever their name is now (Nacho's team) were kickin a "blind guy" kind of theme, the Pallino Pimps went all Intergalactic and were intergalactic "super heroes" including Miss Piggy from Pigs in Space, Marvin the Martian, Space Ghost on vacation, and Barbarella … let's see here … Um, Mama's Roast Beef was back with sort of a "jungle-tiki" theme, and they had real fake tits once again, and sweet Pumas, the Holy Rollers were back, I think they may have been trying for a "Hare Krishna" type thing or something, not sure, barely recognized Jebus with no hair or beard, Knights of the Malted Balls were sportin the same OG "knights" gear … aahhh … Midas Touch My Balls were back again as the cast of the "Jersey Shore", The Situation, Ronny, DJ Paulie D, and Snookie were all in effect, and Snookie had one foul mouth! The Chicken-Fuckers/Cat Bird Ass whatever they are now were back, honestly can't remember their theme this year, Beer Junta was re-invented as the "Insane Clown Bocce" and I know the one dude (old school bocce Kid Rock) was hot as balls in full face make-up, coveralls, and boots, Bonsai Bocce was all ramped up in a new "Rocky" theme, and the Bocce Beer Monks were representing their consistent style with the monk robes, … hhmmm … there was also Sam's Team "Grape Scott" with some stylish kilts and purple tops, the Engineers from last year were back with an throwback type basketball theme, the "bocce ballers" maybe, not sure, there was also a team with Chiefs gear on hittin a "Slap Shot / Hanson Bros" type theme … oh jeez, and I almost forgot Motley Brue was in the house again, rockin the "eighties hairband" action AND winning the tournament, geez, and I almost forgot them, third time they have won, amazing. And there was one more DFH team Audrey's Team representing a "bosses" theme where each employee was poking fun at their own bosses, haha. I think that's 16 teams, so please let me know if I forgot anyone.
In addition to all the greatness that is bocce in Milton I also got to visit the pub in Rehoboth three times over the weekend. On Friday there was a band the Bullbuckers that played, sort of a Ska-Funk band, they had horns and were a ton of fun, though Erik's camera got accidentally broken at the pub, so that sucked, but I may be able to add those pictures eventually too. Then on Saturday we went after bocce and there was a band 28 North playing that was pretty good too. And then when I sent back late Sunday afternoon it was lazy Sunday style with some billiards to wrap up the good times - fun times indeed. Additionally they had three brew pub exclusives on tap we got to try; the DFH Ale, Chicha, and Bam Bam Baji. The DFH Ale is a Double IPA that was described as having the body of a 60 Minute, the alcohol of a 90 Minute, and the hops of a 120 Minute IPA, it was a delicious beer. The Chicha is based on an old school South American style of fermented beverage where corn is chewed and spit into the mash and the saliva from the spit actually contribute to the break down of the starches in the mash process. The beer is boiled after the fact so it is completely sterile, but to some it is still a very unique idea. Finally the Bam Bam Baji is an English-style bitter and nitrogenated, it was very smooth and easy to drink. All three beers were VERY different than each other and it was a pleasure to have the opportunity to try so many special beers at one time, especially after the mass consumption of 60 Minute IPAs that weekend.
Since I already rambled on a ton and pretty much said nothing I'll wrap this up. It was an amazing weekend that I highly anticipate each year and feel very fortunate to have the pleasure to be able to contribute how ever I can. Now, sit back, go check out the pictures and some of the older bocce posts, and try to wrap your head around the awesomeness that is the Dogfish Head Intergalactic Bocce Tournament!