Sunday, January 25th, 2009
Yesterday was at Iron Hill's event Belgium Comes to West Chester at their West Chester, PA location "hosted" by Chris LaPierre, the head brewer there.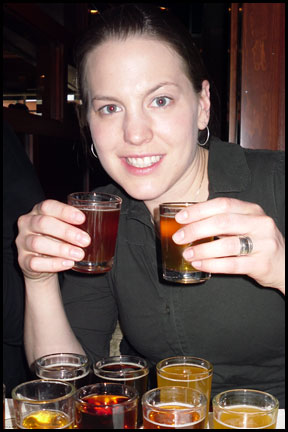 Erik, Sharon, Robert, and myself arrived at West Chester at about 1:30PM. There was about a 20 minute wait for tables, so we put our name in and grabbed a beer. I knew I would be drinking Belgian-style beers all day, so I decided to start with something else. I got IH's seasonal beer an American Brown, it was really good, but I think the one that Garrett and I brewed packed in more flavor.
After we got a table we all ordered the 10 beer Belgian sampler. At $20 a piece it was a good way to try a lot of different beers. I felt slightly bad for our waitress because she was going to have to bring out 40 little cups, but at the same time she already hada $80 tab running and we'd only been there 2 minutes, I guess it's fair. Anyway, we got to try a pretty good selection of the beers, here are the ones I can remember:
Eddy – Iron Hill, West Chester
Abbey 6 – Victory
Mad Elf – Troegs
Cherry Dubbel – Iron Hill, North Wales
Abbey Extra – Sly Fox
Chocolate Indulgence – Ommegang
Lil Pylon – Earth Bread + Brewery
Honey Saison – Iron Hill, Phoenixville
Otay – Nodding Head
White Gold – Ithaca Beer Company
Permanent Midnight – Iron Hill, Lancaster
Stumblin' Monk – Stewart's
Belgian Mild – Flying Fish
Tripel Lindy – Manayunk Brewery
Wild Hibernian – Harpoon
Belgian IPA – Yard's
Heywood – Iron Hill, West Chester
Oak-aged Quad-father – Iron Hill, West Chester
And, those were only the ones I tasted, there were others that kicked before we got to taste them and others that hadn't gone on tap by the time we left around 7:30PM. Basically they had 10 designated taps in the back with a A, B, and sometimes C beer that would come on. So depending on when you ordered your sampler or what time it was when you arrived it would depend on what was available. I think we got to try a pretty large array. I think my two favorites were the Cherry Dubbel from Iron Hill's North Wales location that the guy who worked there kept referencing as Larry's Cherry which sounded all sorts of weird/wrong to me. Also the Permanent Midnight from Iron Hill's Lancaster location was really good too. One weird thing about that beer, Robert pulled two plastic "pubic hairs" out of his sample, it was pretty bizarre. Fortunately he didn't choke on them or anything. He really could have made a fuss with the management, but he played it cool instead and just wanted to warn them that it happened so hopefully to avoid any situations with other patrons.
Overall it was a real good time and am looking forward to going up again next year. My one piece of advice, if it is at all doable, to Iron Hill would be to have all of the beers on tap at once. That way, say there are 20 beers available, they could have four 5 beer samplers available. The samplers wouldn't be so overwhelming for the waitstaff, there would be more beer options for the patrons, and you could choose more carefully what it was you are trying to drink if there were specific beers that you really wanted to try. Just a thought.