Wednesday, October 31st, 2007
OK, tonight was a double-hesitation-WTF. I have hesitated for quite some time now on trying to re-bottle-condition the Saturday IPA. Well, tonight I tried.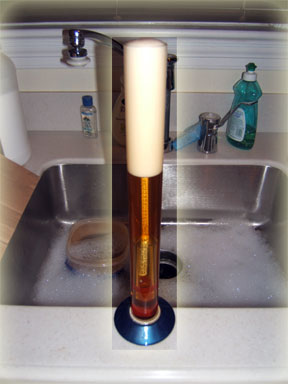 Well, sort of. I had all practical intentions to try and re-bottle-condition roughly 40 bottles of the Saturday IPA, I mean come on seriously, WTF. What's the worse that is going to happen? I ruin about two cases of beer that I wasn't drinking anyway? I waist a bunch of my time and money (and Garrett's too)? I create two cases of bottle-bombs and the shit hits the fan? I was tired of not drinking my delicious nectar. So I gathered my things from the basement to re-bottle about two cases of beer. I was going to sanitize everything, carefully pour the beer down the side of the bottling bucket, measure the beer, run the volume / temperature equation through pro-mash (which seems to be working), boil my priming sugar, add that to the beer, add a half pack of dry yeast, and re-bottle. It seemed simple, logical, and easy. Yes, I know I would heavily oxidize the beer, but I didn't care. If it carbonated properly then I would probably drink it in two weeks or so, especially if I "had to". Anyway, I had just opened the first bottle to dump in and pftssst! The sound of carbonation. It must be a flook, opened a second bottle and pftssst! WTF! OK, now I'm feeling a little crazy, what's going on with this beer? I try both samples, neither are fully carbonated both had good mouth feel and are definitely carbonated. Now, I hesitate, WTF!? I decide to abort mission and call fair is fair. As of now the IPA is "somewhat carbonated". Who knows what I'll do, WTF . . .