Thursday, May 21st, 2009
So I just kegged the APA with Wheat ale and ir sure tasted good so far.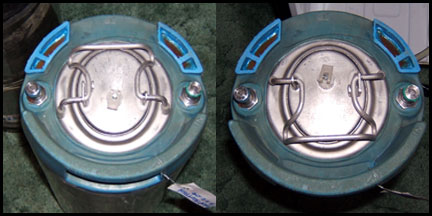 Things went basically fine with the kegging of the beer, but I still have issues kegging after dry hopping with pellet hops. Twice I have transferred over enough debris to clog a keg, so I am uber paranoid about doing that every time. To the point that this time I transferred from secondary to a tetrary for only about 30 minutes and then to a keg. Hopefully there wasn't any additional oxidation. I think about 5% of the original dry hops carried over to the tetrary and about 5% of that to the keg, so about what like 1/4 of a percent from the original dry hops . . . ? Better than nothing.
I also learned an important lesson for my kegging set-up. I already can barely squeeze in three corny kegs into my kegerator, but I realized tonight that if on the modified keg (see picture above), if the lid is facing the incorrect direction, it doesn't matter any longer if it's modified, it won't all fit. So I had to do some fancy floppin' if you catch my drift. Lesson learned.
Also, last night the last keg in the kegerator and the first keg of three of the Scottish 70/- kicked last night. So in addition to kegging the APA I also cleaned and sanitized my lines and put three new kegs on. On tap currently are the Hop Scottish, the Simcoe ABA, and the Scotch Scottish. With both the Hop Scottish and the Scotch Scottish on tap there are blending opportunities for a Hop Scotch – nice! I pulled samples of all three, and they were small and warm, but they seemed OK – the Hop Scottish was more mild than anticipated, the Simcoe ABA was a little catty (go figure), and the Scotch Scottish was more oakey than I realized.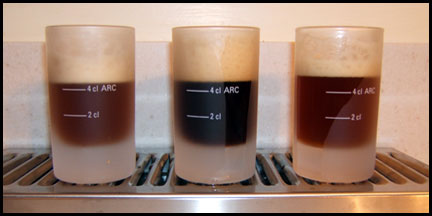 So other than that it was a pretty chill night, though I realized I have mad bitch work to do, six carboys and three kegs waiting to be cleaned, ugh. Hopefully on Monday I'll brew, but I think a lot of it will depend on what time I get home from the beach on Sunday in order to get my stuff situated. Oh, and BTW, I am enjoying a 16 month old Palo Santo right now, smooth with a capital SMOOTH!